Develop Your Career
As a professional graduate program, our priority is to help our students succeed in their career goals. In addition to offering direct experience in all our classes, we want students to make strategic career choices, advocate and pursue professional development opportunities, and engage with the Communication Leadership network of alumni, faculty, and partner organizations as they pursue job opportunities.
Applied Learning
Our applied learning initiatives enable every student to gain practical experience during their studies. Many classes include work with real-world clients, and we offer quarterly practicum classes that take this client work even further. Our robust Consultancy program pairs students with startups, small businesses, non profits and government organizations seeking communication support. Review our Job Board for a current listing of paid and volunteer opportunities open exclusively to Comm Lead graduate students.

Workshops & Small Group Coaching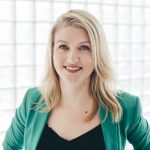 Lynn Juve, job search strategist and founder of Bespoke Professional, will be presenting three workshops to Comm Lead students, along with small group coaching sessions. Workshops are listed on the calendar page, and include the following:
The Do's & Don'ts of Networking for a New Role
There is so much pressure to put ourselves out there. As a result, the idea of networking on LinkedIn can be anxiety-producing. Let's talk about some strategies to make it a little less intimidating.
Autumn Quarter
How to Make a Career Change
For many, an advanced degree is a chance to start a new career, pivot into a new industry or gain the skills for a higher position. But how do you market yourself for a new area in which you have little or no experience?
Autumn Quarter
Resume & LinkedIn Profiles
We'll go through resume examples from real students to demonstrate what is missing and what type of information needs to be expressed differently. We'll model how they can get this information onto their own resumes, then show how to create a longer-form LinkedIn profile and a shorter-form resume from the same document so that they align.
Winter Quarter
Salary Negotiation
A lot of the salary negotiation advice floating around is old. There is new research and new strategies that can help you negotiate a high salary, including how to prepare for the dreaded question: What are your salary expectations
Spring Quarter
Be sure to check our Events Calendar and social media channels for upcoming workshops and small group coaching sessions!
Any student who attends at least one workshop (or watches the video) is eligible for an individual consultation.