At Communication Leadership, we pride ourselves on the value that our graduate students get both inside and outside of the classroom — from professional development events, to social connections, and applied learning opportunities. So a coordinated response to the sudden changes brought about by Covid has been vital.
We want to share with you our innovative approaches to distributed learning, and many steps we're taking to ensure all our students have a rich experience in classes and beyond, despite the pandemic: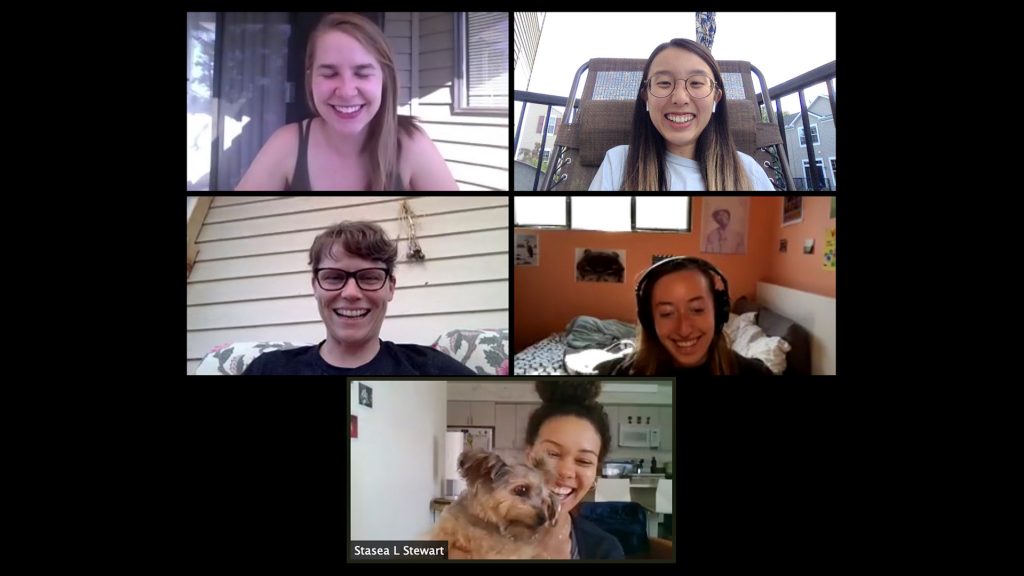 Classes
While nothing can replicate the experience of learning together in the same physical space, using asynchronous lectures, breakout rooms, and increased access to high profile guests who are stuck at home just like the rest of us, we've been able to elevate the remote learning experience. This isn't anything like taking 'online classes' in the traditional sense. We treat it as distributed learning, with just as many advantages as it has drawbacks.
"Distributed learning has benefited me in more ways than I could have imagined," explains Cohort 19 student, and Comm Lead Outreach Coordinator, Khyati Mehta. "I was able to interact with a lot more guest speakers during classes, have inspiring breakout room discussions with people I wouldn't otherwise get the chance to talk with, and attend a lot more events than I would if they were in person."
Since March, our faculty have been meeting weekly to share best practices for teaching via Zoom. It's often been a challenge to bring this group of high-powered professionals and academics together in the past. So embracing these more frequent virtual meetings has actually created more cohesion and collaboration among our faculty than ever before.
Events
In the typical year, our program offers dozens of public and program-specific events, advancing professional communication, digging into timely topics, and supporting our students' career development. In March 2020 Covid hit Washington hard just days before our biggest public event of the year, where we expected hundreds of attendees. We've long included classes on distributed teams and the latest remote communication technology, so we were ready. We responded decisively, shifting to an all virtual format, aided by some of the very "Future of Work" oriented tools that we'd planned to discuss at the conference.
In many ways those first few days set the tone for the last six months.
Realizing our community had a unique level of expertise preparing us to handle the communication challenges of the pandemic, we quickly formed the Covid-19 Student Consultancy, to serve the small businesses and community organizations facing unique communication challenges because of Covid. The consultancy has worked with over 50 such clients, and held over a dozen virtual events, bringing the knowledge of our faculty and students to those scrambling to adjust to the new realities.
Another test came when it was time to honor our 2020 graduates in June. The traditions of graduation are so important for acknowledging the hard work and community support it takes to earn a master's degree, especially for those working full time or travelling across the world to study. We ran a one-of-a-kind hybrid graduation ceremony on Zoom and streamed to Facebook for friends and family, complete with awards, toasts, and every graduate having the chance to hear their name called in a "virtual stage walk."
Building Community
Even with the most technically advanced and intentional approaches to distributed learning, much is lost in terms of community and mutual support when we can't share physical space. The conversations between students in the hallway after classes, the professional connections made across the snack buffet at events, and the care and concern we give to those we see each week and get to know personally.
For students like Khyati, being stuck in Seattle during a pandemic was frightening, isolating, and certainly not how she imagined her first year of grad school.
"As someone who had moved across the world for the program, I was mostly worried about losing out on the community I had found here. But it seemed like everything went virtual almost effortlessly," she said. "Events and workshops moved online, professors and friends reached out often, and the entire Comm Lead community made sure to check in with everyone."
Immediately after social distancing mandates confined us to our houses, some of which were thousands of miles away from our families and places of origin, Comm Lead responded to this sudden gap with a daily social hour over Zoom, to check in, chat, share, and support each other. This morphed into "Hour Comm Lead" an intentionally curated but casual virtual hang out, with guests from our student and alumni community occasionally grabbing the spotlight to share professional insights and personal passions.
Mentorship + Student Support
Looking ahead to Autumn, we plan to continue all of these creative initiatives to make the Comm Lead student experience just as valuable as ever, in spite of the circumstances beyond our control.
We'll also be hosting a series of virtual career advancement events with Lynn Juve, a series on Diversity and Equity in the professional workplace, a virtual orientation, and launching two new mentorship programs, connecting incoming students with current students, and current students with alumni who can advance their professional goals.
There's an adage in professional communication that says "turn every crisis into an opportunity." While the adverse impacts of this pandemic can't be overstated, we wouldn't give back everything that we've learned. And it's safe to say that, even when things go 'back to normal' the way we teach, learn, and connect at Comm Lead will never be the same again.
Resources
Listed below are a selection of resources for all Comm Lead students that might be especially needed during the ongoing pandemic. If you know of a classmate who is having trouble and not able to track down the help they need, please encourage them to reach out Jazz Espiritu or Anita Verna Crofts.
Healthcare:
Food Support:
Technology & Course Support:
UW & Community News:
Lead photo: Communication Leadership consultancy team members Hannah Wheeler, Evelyne Kuo, Mo Herbert, Stasea Steward, and Susan MacLaren share a laugh during a weekly meeting.