The Communication Leadership graduate program is excited to formally announce Dr. Ekin Yasin as the new Director, effective July 2020!
Ekin was appointed to the Department of Communication faculty in 2013, joined Comm Lead as Associate Director in 2016, and served as Co-Director from 2019-20. Prior to her time in Seattle, she held a teaching appointment at Baruch College at City University of New York and earned her doctorate in Media Communication Culture at New York University. She received the UW Distinguished Teaching Award in 2018.
"I couldn't be more excited to work with Ekin as the new director of Comm Lead," Communication Department Chair and Professor Dr. Christine Harold said.
"Ekin brings a fundamental talent for balance to this role," she continued. "Her roots are firmly planted in the rigors of scholarly inquiry, which yield deep insights into the challenges and opportunities facing professionals and institutions. She has an enviable knack for managing the details of running a dynamic organization, while also maintaining a broad and innovative strategic vision. She brings a global perspective to a program that is rich in both local traditions and international connections. I'm thrilled to have her stewarding Comm Lead into its next decade."
Ekin shared her vision for Comm Lead and answered questions from the community in this Q&A session
Ekin's systems thinking has already had a profound impact on Comm Lead. Comm Lead Connects 2020 was just one example of her vision and creative approach to programming.
"I truly believe that Comm Lead is the degree of the future," Ekin said. "Ever since I joined the program 2016, I have been in awe of the truly diverse and purpose-driven community. In the coming years, my goal will be to build upon our strong foundation by ensuring we remain current in a globalizing and diversifying career environment. Above all else, Comm Lead will serve as a laboratory for cutting-edge and socially responsible communication and leadership practices of our world."
"Ekin's rigor, energy and vision are perfectly aligned for these times. I firmly believe that this remarkable leader will guide our learning community from strength to strength."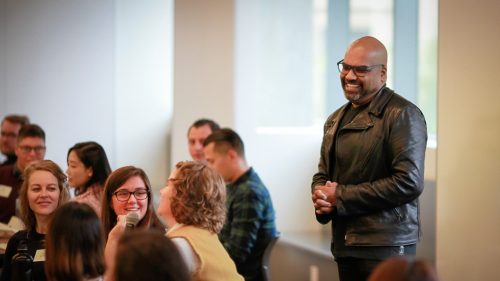 This thoughtful leadership transition has been in the making for two years, and marks an end to the 13-year tenure of Hanson Hosein.
"I first met Ekin in 2015, and quickly recognized her talent for leadership and education," Hanson said. "Ekin's rigor, energy and vision are perfectly aligned for these times. I firmly believe that this remarkable leader will guide our learning community from strength to strength."
Under Hanson's leadership, Comm Lead grew from a robust but small program to hosting well over one hundred students each year, hailing from all corners of the country and world. The Comm Lead faculty nearly doubled in size, and over half are women. In 2013, Comm Lead introduced a second degree in Communities & Networks, driving the re-visioning to officially launch the name Communication Leadership. Comm Lead launched a storytelling certificate program in 2014, adding to the pipeline of student candidates and growing the program's reach in the broader community.
For a relatively small program on a large campus, Comm Lead has had an outsized impact.
"This outstanding master's program has evolved over two decades to become one of the University of Washington's most highly respected graduate programs, recognized for producing skilled graduates prepared to thrive in the fast-changing communications industry," wrote UW President Ana Mari Cauce.
"It's known for its commitment to ethics and integrity as well as for teaching critical engagement and using storytelling to create positive impact," she continued. "Under the leadership of dedicated, creative professionals, Comm Lead is doing cutting edge work to train the principled communications leaders and professionals our society urgently needs."
During Hanson's 13 years as Director, the two terminal Comm Lead degrees graduated 664 students, many of whom went on to leadership roles at top organizations nationally and internationally.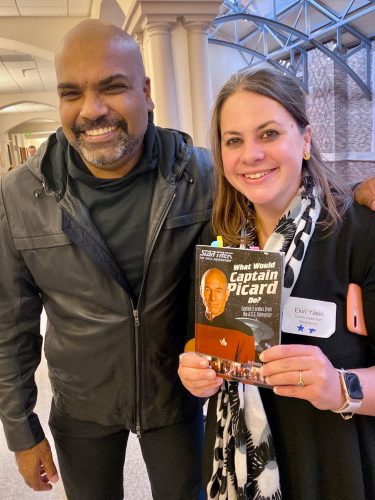 Dr. David Domke, Professor and former Chair of the Department of Communication remarked on Hanson's tenure, "Hanson is not an academic by trade. He's an inventor, an entrepreneur, a creator. He took a young professional Master's program with potential and led it to greatness. He hired well and then collaborated in ways that elevated everyone. He has done something that few have done: lived and thrived at the intersection of a research university and a professional world that requires deliverables yesterday. He has embodied Comm Lead, and we are all fortunate."
This academic year, Hanson will serve as the program's Co-Founder, leveraging his network to support Comm Lead outreach, fundraising, and curriculum, along with the launch of a new for-credit certificate. He will also continue his work as the host of the university's successful "Co-Existing with COVID-19" livestream series and as public convening partner for the UW's Center for an Informed Public.
Ekin's background and sensibility builds on Hanson's legacy in exciting and complementary ways. Both internationally-minded, Ekin will continue the tradition of welcoming Comm Lead students from near and far, and enhancing a program and curriculum that nurtures a global leadership mindset.
Comm Lead is excited to complete this transition and welcome Ekin as our new director. It is a fitting way to kick off the upcoming 20th anniversary of this dynamic and prestigious graduate program.