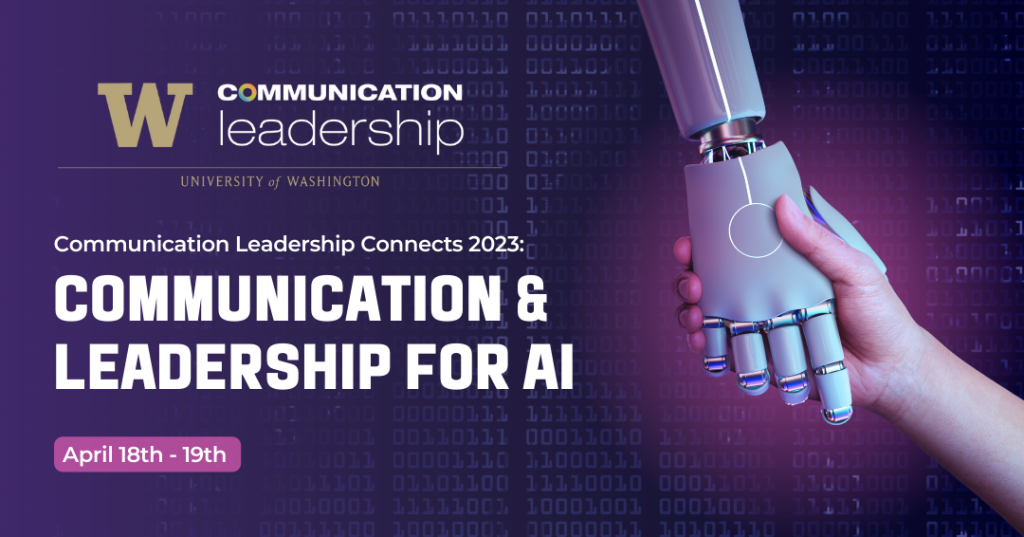 The theme for this year's Connects conference was "Communication and Leadership for AI." We asked leading strategists, communication and marketing professionals the questions that have been on everyone's mind since ChatGPT went public a few months ago.
They discussed the impact of generative AI tools on the fields of content, marketing, journalism and crisis communication. They shared current and future applications for these technologies. And they explored the ethical implications of their use.
The first day's panelists dug into the question "how do we get generative AI to work for us?" Here are some key insights:

Jenny Reece, a Senior Research Manager at Microsoft focusing on Consumer Growth & Artificial Intelligence, explained foundational concepts of AI. She started with the rise of image generators, the advent of ChatGPT, searching and chatting using the all-new Bing, and the rise of AI in media and content (AI-generated Drake songs, anyone?). She acknowledged the potential negative repercussions of AI such as the spread of misinformation, copyright infringement, data privacy and bans, but ultimately encouraged participants to embrace these tools as useful (and inevitable) in their future work. 
Mike Caulfield, a UW research scientist specializing in digital literacy to combat misinformation, talked about how new AI tools threaten to upend the "style" tells that usually tips us off to untrustworthy information (like a shoddy looking news website).  In spite of that, he reemphasized the same tried and true methods of verifying info by researching its source and confirming with other sources. Still, he concluded that we need responsive regulations of the use of AI to protect against risks to data privacy and the safety of individuals. 
Daniel Rasmus, is a strategist and industry analyst who teaches in our program, reminded us that AI has been around in some form for decades (he even talked about it in a book he wrote in 1988!) Dan tried to soothe some of the panic around AI. He reassured the audience that they shouldn't abandon their career paths simply because of the new tools emerging, and instead simply ask themselves what tasks they need help with where AI might be useful. 
Still, the presenters had very different answers to the concluding question "What is one topic around AI that listeners should invest time learning about?"
On day two, industry innovators discussed the ways specific specializations in professional communication will be (and already have been) reshaped by AI tools.
Sam Tang, a cross sector expert in social content, from digital creative agency Presence, (and an instructor in the program), unlocked new understandings about the potential role of AI in content creation. He did a quick recap of how AI works, including the large language models of AI Chatbots, text generators and stable diffusers for image and audio generation. Sam mentioned that about 1% of users are responsible for creating 73% of the content available in social media, so AI-generated content should be viewed as a path to more participation, not less. He emphasized the importance of an audience-centric content strategy, and that human context is always essential in giving data meaning. He concluded with the hope that people would be more curious, hopeful and confident about using AI technologies in their lives. 

Philippe Borremans specializes in epidemic and pandemic preparedness as a crisis communications consultant with the WHO and EU. He spoke on how crisis communicators can leverage tools like ChatGPT, using it not just for writing content, but also for strategic purposes like drafting culturally relevant communications during a rapid crisis response. He said learning how to query and converse with AI in the right way will be an essential skill in the future. He concluded by emphasizing that ethical use of  AI tools starts at a personal level. 
Adebola Olomo, a product marketing manager at Hubspot, and the communications lead for Women in AI, Ireland, talked about using AI to improve marketing content. She shared her personal journey toward embracing AI, and the key competencies she focused on when she launched her career in the field. She emphasized its value for marketing in personalizing content and reaching diverse audiences, but also shared examples of how AI can be dangerously biased. Adebola concluded by sharing some exciting tools and AI marketing trends that will impact the industry in the coming years.
At the end of the session, Communication Leadership Director Ekin Yasin asked the same closing question to the remaining panelists, you can hear their responses below.