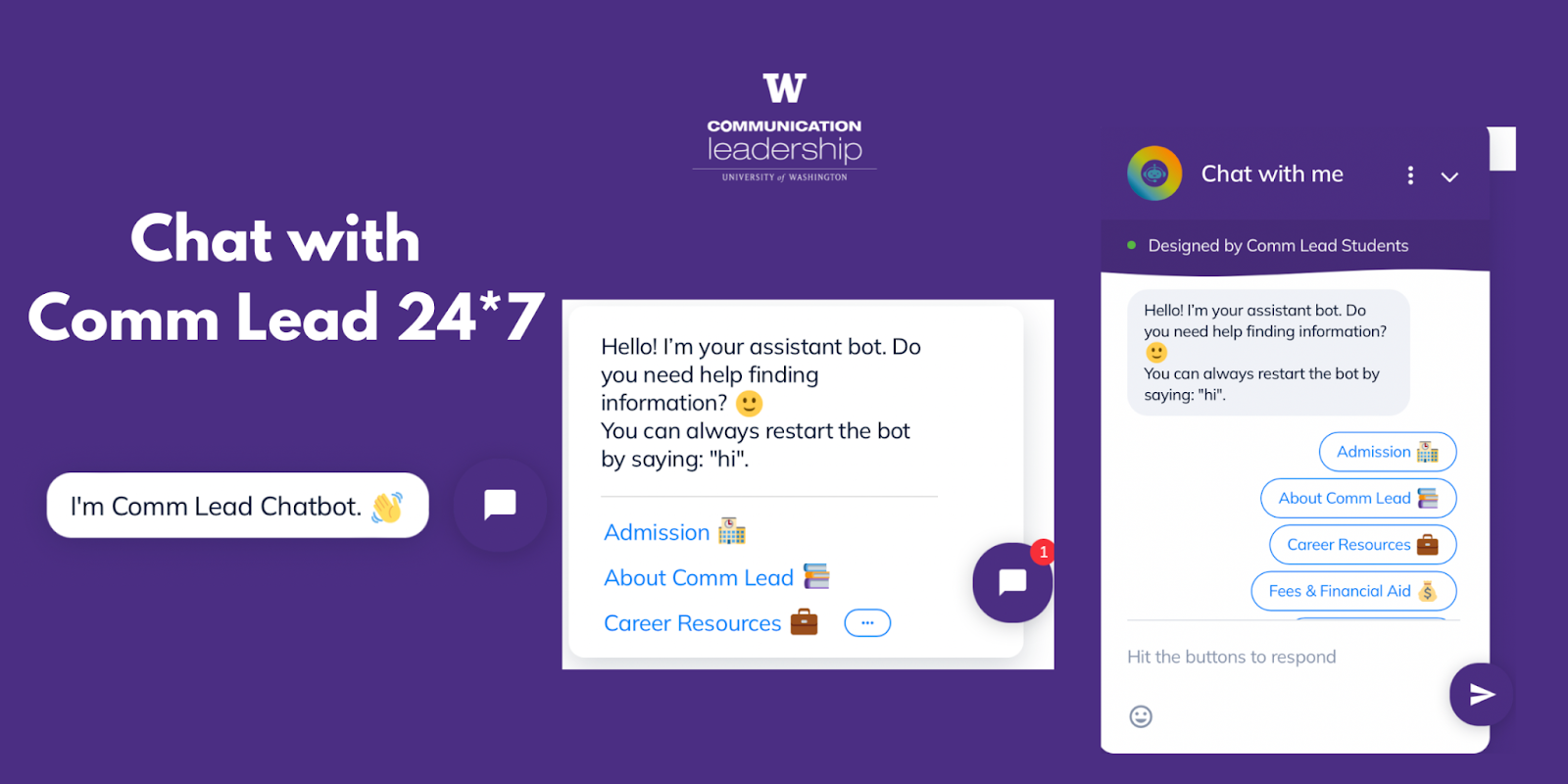 Each year our program receives hundreds of applications from all over the world. A prospective student on the other side of the globe might have a burning question at 2 AM Seattle time. In the past, the fact that we were all asleep (or that our inboxes were overflowing) would have been a barrier.
But not anymore!
We've introduced a new chatbot that can welcome you and answer your questions about everything from admissions to financial aid, to career resources. And what's extra special about it is that it was designed by the students of Communication Leadership itself – based on rigorous research into the pain points and top questions of international and domestic students.
We're proud to say, we are the only program at the University of Washington to have a chatbot (at least until we help some others catch up!)
This journey began with a Practicum course taught by Meta Sr. UX design leader Madison Joslyn. Sixteen students teamed up to find the best platform to host the chatbot, and then ran surveys and web analysis to design one main conversation flow.
Phase two began in June, taking the plan developed in the class and making it a reality. Through the Communication Leadership Consultancy, we offered this challenge as a paid opportunity for a student to do an end-to-end project that simulates professional work they might do post-graduation.
Zoie Huang, who had also been part of the practicum class, was selected for the role She worked independently to create the visual design of the chatbot and further explore the nuances of the target audiences.
Heather N Werckle, Assistant Director of Academic Services, acted as her supervisor and point of contact, since the chatbot was specifically conceived to answer the kinds of questions Heather typically fields via email, and thus reduce her workload.
"I was highly impressed by Zoie's deep knowledge of user experience testing and research, and learned a lot from her over the summer," Heather said.
Zoie conducted market research, did several rounds of user testing with students, and through continued meetings and iterative feedback, made the chatbot as robust and useful as possible.
She facilitated potential users to do card-sorting and tree-testing and moderated five usability testing to evolve the design. She also emphasized the importance of the ability to translate UX knowledge to a non-UX background audience. Having soft skills to conduct interviews and explain the work and reasoning behind is as important as understanding the use of different software. During the weekly one-on-one meetings with Heather, she learned how to walk through her progress in layman's language and highlight the results of her findings.
Zoie says her favorite part of the project was to improve the user interaction experience with the Chatbot. After the usability testing, she decided to overhaul a more formal approach to the interactions, and adjusted to more casual language to make the user feel welcome. She added the option of selecting whether you are an international student or a domestic student at the beginning of the interaction, so the Chatbot can suggest areas of interest or frequently discussed questions. She also added icons to make the chat look more interactive and suggestive in terms of the next action.
"Since the chatbot went live in November 2022, I have seen huge a decrease in basic email inquiries!" Heather said, reflecting how impactful it's already been in helping students find the info they're looking for.
So far, the chatbot has been loaded over 10,000 times, and answered dozens of queries with a 100% helpfulness rating from users. This chatbot turned into an effective solution for prospective students, while lightening workloads and helping us to better understand the needs of our community.
But don't take our word for it! Try the new chatbot yourself!