by Elliot Trotter
It's never been like Aneelah Afzali to wait for change to arrive. A graduate of Harvard Law School, in response to growing Islamophobia in the United States, Aneelah stepped away from her career as a lawyer to found the American Muslim Empowerment Network at the Muslim Association of Puget Sound in Redmond. She is an activist, community leader, and educator committed to build bridges of understanding about Islam.
Along the way, Aneelah connected with Rev. Terry Kyllo. A Lutheran pastor, Rev. Terry heard the call to take action against the rise in anti-Muslim dehumanization he had witnessed. He paused his work in churches to found Neighbors in Faith, an interfaith organization dedicated to bringing people of all faith together against hate and religious persecution.
In the last five years, hate crimes against Muslims have been on the rise. In election years especially, Aneelah asserts, we see a rise in anti-Muslim attacks. In the face of a $30 million dollar anti-Muslim industry that uses social media to spread misinformation and hate, Aneelah and Rev. Terry wanted to address the spread of Islamophobia head-on.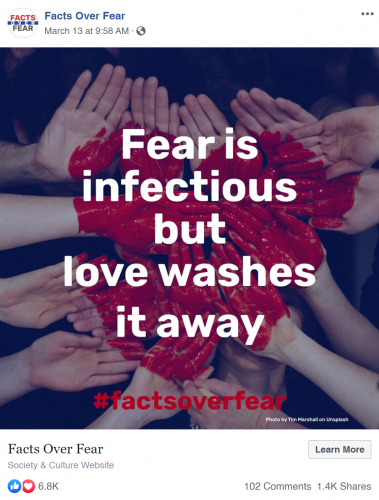 After extensive research on messaging and communication science, Aneelah and Rev. Terry teamed up with Studio Capon to develop five, three-minute animated videos to counter misconceptions and provide a resource for allies to respond and inform:
The series utilizes communication techniques that empower people to recognize how religious persecution is not only founded in misinformation but also unpatriotic and unconstitutional. It uses positive language to unite American values with a better understanding of Islamic teaching.
Aneelah and Rev. Terry sought support from Comm Lead to launch their new series. After the honor of being invited to act as a Strategic Communications Manager for the campaign via Comm Lead's Partner Program, I watched the series Aneelah and Rev. Terry created and I knew they were onto something special. We got to work right away and set an ambitious timeline to share these resources.
Joined by Ean Olsen from the nonprofit Neighbors in Faith, we moved quickly to develop a new brand identity for the campaign, and a rollout strategy. I was impressed by how much energy our small team brought to this campaign. Once we landed on the Facts Over Fear marque, Rev. Terry's daughter contributed an elegant logo, and I built a webpage for the campaign.
We were also lucky to be able to partner with Comm Lead students Mo Herbert and Eric Rossitch who lent their video production expertise to create a companion series of conversations with Aneelah and Rev. Terry about the topics in each animated video. You can check out one of those videos above.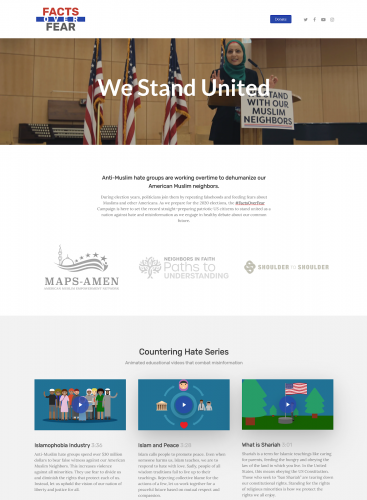 The campaign launched on February 10th, 2020 — the 5-year anniversary of the horrific murder of three young Muslims in Chapel Hill, North Carolina. "This campaign seeks to address the underlying roots of anti-Muslim hate crimes like the one that stole the lives of Deah, Yusor, and Razan," explains Aneelah. "By helping educate our fellow Americans with facts over the fear and misinformation promoted by the hate industry, we seek to build bridges of understanding and unity to create a safer and better community, and stand united as 'one Nation under God, indivisible, with liberty and justice for all.'"
Launched in partnership with the national Shoulder to Shoulder Campaign, in our first week, Facts Over Fear videos saw inspiring support from local and national leaders like Rep. Pramila Jayapal, Rep. Adam Smith, Rep. Suzan DelBene, State Rep. Joe Nguyen, Seattle City Councilmembers Lorena González and Kshama Sawant, King County Executive Dow Constantine, and many others, who took to social media to share our campaign.
While we were able to reach a substantial local audience, the challenge of connecting with a broader national audience became apparent. In the interest of increasing shares and retweets, we ultimately found more success targeting individuals connected to interfaith organizations who were likely to be interested in this content already, rather than attempting to introduce new concepts to those who didn't have an apparent vested interest. We recognized early on that users would be more likely to engage with content if it was being shared by someone in their social network. To that end, Facebook and, to a lesser degree, Twitter, became our primary distribution platforms (as opposed to YouTube and Instagram) due to their focus on sharing and the ability to target the specific interests of users with boosted posts.
After five weeks of newsletters, media outreach, promotion, and thousands of shares later, I'm proud of the work our team accomplished, and grateful for the opportunity to support Aneelah and Rev. Terry's work. Together we've set the foundation for continued outreach and built a new national following of supporters who will see Facts Over Fear and its content as a resource to inform and combat Islamophobia.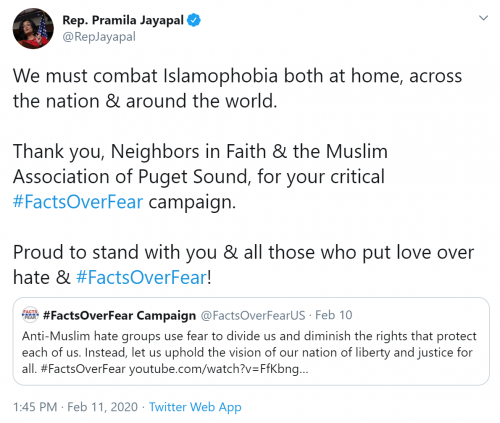 An important expectations shift came in understanding the life cycle of this campaign. What initially was intended to be a short-term engagement strategy over the course of five weeks became an effort to establish the Facts Over Fear brand for ongoing engagement. Recognizing the longer life-cycle of this campaign helped us prioritize the continued creation of content that positioned the Facts Over Fear brand as a resource. We increased engagement by supplementing our video content with simple text-based memes that supported the messaging behind our series. In the end, while our five-week launch was successful in reaching new audiences and establishing the Facts Over Fear brand, the true measure will be continuing to use the platform that has been created to funnel users towards those incredible video resources that initiated this project.