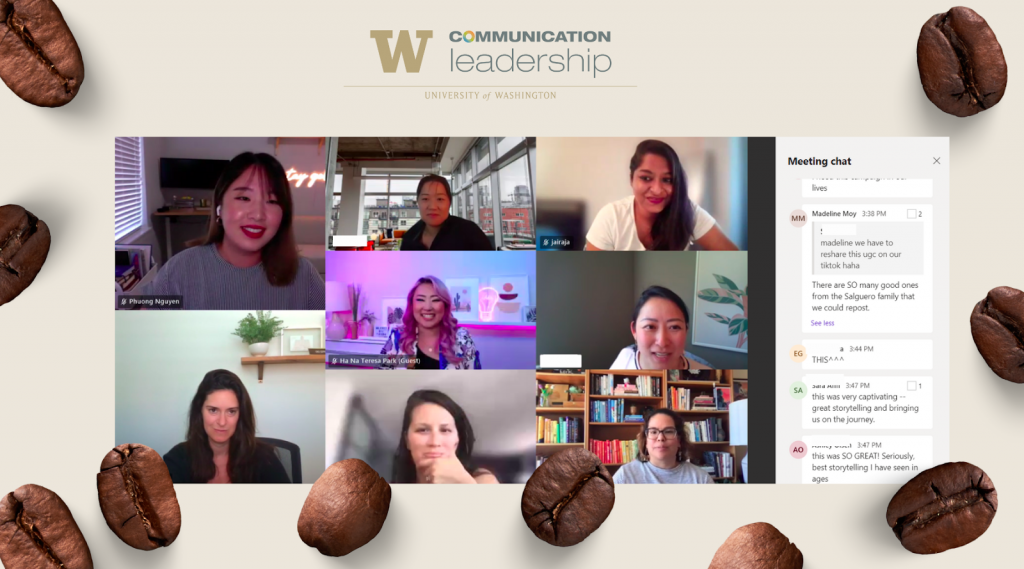 The secret of a good marketing pitch is great storytelling. If you have a story that touches the heart of your audience, it will work wonders. The Communication Leadership Program at the University of Washington has been instilling this power of storytelling skills in its students for over two decades now, and we've seen our students become the voice of some of the biggest organizations after graduating.
But recently, we witnessed something extraordinary. Two students, Aparna Jairaj, Cohort 21 – MCDM track, and Phuong Nguyen, Cohort 20 – MCCN track, curated a campaign for Starbucks as their final project in the Multicultural Marketing class in Spring 2022 taught by Ha Na Teresa Park. The campaign was so well thought out that Ha Na decided to connect the students to the Starbucks team, and before they knew it, they were presenting it in front of a panel of Starbucks leaders.
The campaign was curated for Hispanic heritage month and aimed at celebrating the Latinx culture. It was named #LetsGoToEStarbucks, and would be launched on the social media platform TikTok, to help strengthen the brand's connection with Latinx millennials in the U.S. by investing and nurturing relationships with this fast-growing group of consumers.
The concept concentrated on nine Latinx TikTok creators creating a customized Starbucks drink that reminds them of their childhood, and then ordering and sharing that drink with someone they love. The call to action is for their followers to follow suit in trying the drink and co-creating "that first sip" content. The objective of the campaign was to garner 100K TikTok user-generated content (UGC) posts using #LetsGoToEstarbucks during the 2022 Hispanic Heritage Month.
Aparna and Phuong got to share this idea in front of three Starbucks teams – Loyalty, Social Media, and Paid Media. The idea and the strategy behind #LetsGoToEStarbucks were widely appreciated. Aparna and Phuong were praised for their captivating storytelling skills and dedication to creating something outside-the-box that could speak to the customers in a personal way.
Aparna and Phuong say they chose Starbucks as their client for the class because of the leadership qualities of responsibility, advocacy, and community that they had in common with the coffee giant. They also spoke about how communicating with the community is a big part of any brand's values, which is what led them to highlight the importance of cultural pride, and the experience of being a woman in their campaign. 
According to the students, their instructor Ha Na was a constant force of motivation and support during the development of this campaign. She tutored Aparna and Phuong about the importance of inclusion and diversity, and gave crucial lessons about how to practice it in real life while presenting. Ha Na went above and beyond to ensure her students portray the story and emotions behind the campaign in the most creative and impactful manner possible. 
The Communication Leadership graduate program at the University of Washington has always focused on finding ways to provide students with the chance to experience the real world even before they graduate. While Aparna and Phuong got to experience it through Ha Na's class, our other students work with many Seattle local organizations under Communication Leadership Consulting, and others take practicum classes to learn how to handle a client and a project from start to finish. 
Applications are open through February 1st for Autumn 2023 start. Find more information here.