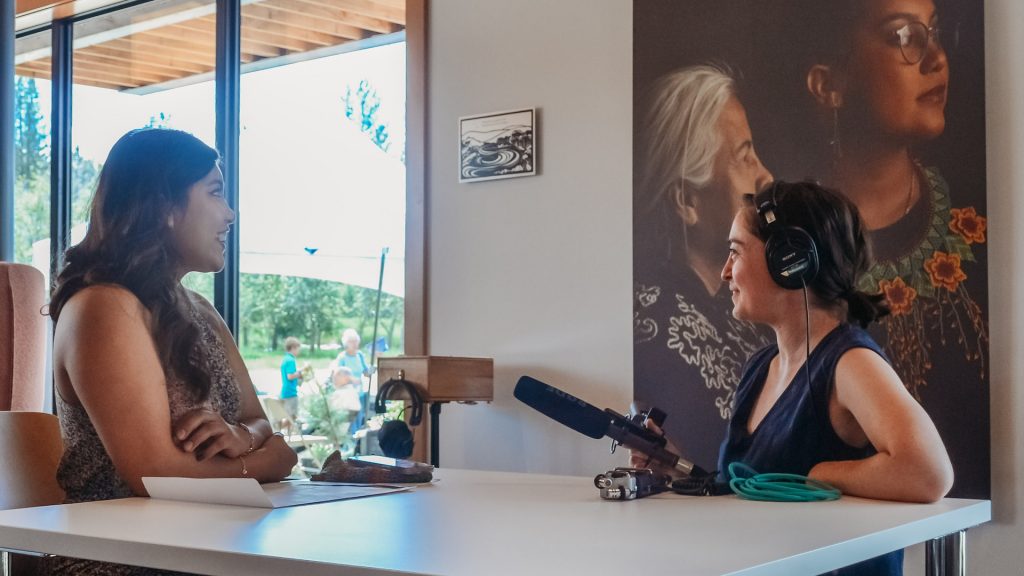 by Rachel Miller-Howard
Cohort 19
It was early September, 2020, and Oregon was on fire. An historic wind event carried an apocalyptic haze north and west over my home in Portland, and settled in for 10 days. The smoke seeped through our walls and stirred up household panic. The inescapability of it — that primal feeling of being trapped — shook me. I remember telling myself I just had to get through the week, and then the air would clear and it would be over. And eventually, when it did, it brought such relief.
But of course, we know there's more to come. These are no longer isolated incidents.
Six months later, I was funded by the Comm Lead Consultancy program to join a collaboration between the UW EDGE Center and a nonprofit organization, Clean Air Methow. We created the Fifth Season, a series of audio stories about people in North Central Washington learning to live with wildfire smoke. It's called the Fifth Season because fire and smoke show up so reliably every year in that part of Washington now, it's like a whole different season. After my own experiences with the disruptive power of smoke, the project had a unique urgency.
With support from Lisa Hayward of the EDGE Center and Liz Walker of Clean Air Methow, I conducted interviews with community members over zoom, collaborated with Lazo Gatos, a local teenager, to narrate the pieces, and worked with Lynnette Westendorf, a local musician, to supply the music. I learned a lot about the physical and mental health strategies people in fire-country have developed. Those of us living in cities and new to smoke would be wise to take note.
At the end of the project, the stories aired on a Methow Valley radio station.
A year later, I was approached by Lisa and Liz about creating a second iteration of the Fifth Season. This time, for a semi-permanent installation in the Methow Valley. Enthusiastically, I said yes. The idea was to pair distilled versions of the audio stories with photographs of the interviewees for public engagement at a new library in Winthrop, WA. National geographic photographer Ryan Bell captured striking images of the interviewees. Another Comm Lead student, Gautam Malyala, joined the team through the Comm Lead Consultancy, to work on social media for the project and write copy for the installation.
Lisa and I traveled to Winthrop for the library opening and Fifth Season unveiling on June 11th. After working on the project for over a year, it was my first time actually in the Methow Valley. We drove north out of Seattle until the urban sprawl started to thin, then turned east onto 530. We cruised through the small communities of Darrington, Rockport, and Marblemount, where fruit stands dotted the two-lane highway. We crossed over the dramatic North Cascades, and dipped into the valley. It was hot, but green; the landscape hadn't been charred by fires yet.
Winthrop's new library is a stunning community space, and it was deeply moving to see the Fifth Season in full form. The opening event was packed, and many of the interviewees attended. It was so special to meet them in person at last!
"It's more emotional than I thought it would be," one of our interviewees, Kathy Moses, who is the communications specialist for the Colville Tribe Environmental Trust Program, said standing in front of her photograph. "When I was telling my story I was thinking about what I was going to say. But listening here, it's like 'oh my god, I have important things to say!'"
Highlighting remarkable experiences like Kathy's — of adaptation, resolve, and community-centered solutions-thinking – is exactly why I became a storyteller.
A digital version of the installation can be found here on the UW Department of Environmental & Occupational Health Sciences website.
A version of the Fifth Season will air on KUOW's Soundside the week of July 18th.