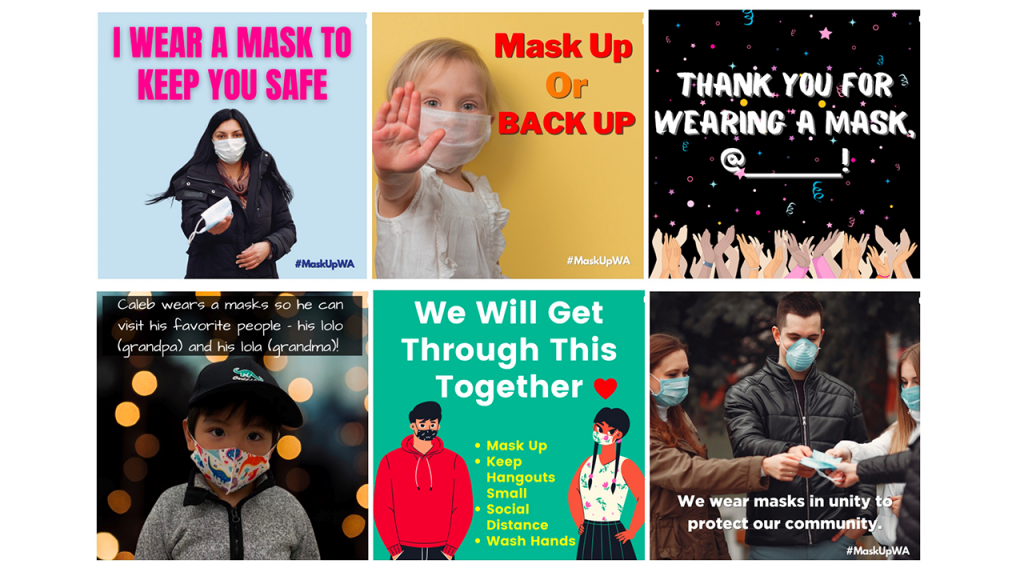 Can a meme save a life?
When there's a deadly pandemic raging that can only be stopped through individual safety behaviors, the answer is 'yes.'
And over the past six months, a group of Communication Leadership students have shown just how powerful the right message placed in front of the right audience can be.
In October and November, Comm Lead collaborated with Restart Partners to run a 9-week social media mask adoption campaign; it reached over 1.4 million people across Washington and Oregon. This campaign gave students an opportunity to apply their professional skills and make a significant impact on public attitudes towards mask-wearing.
"My biggest learning is understanding the power of social media for social good and its impact on my community," said Cohort 19 student Marisol Morales, who designed content for the campaign.
Restart Partners was founded to influence mask adoption and other COVID-19 prevention behaviors to help communities stay healthy, while also fostering environments for small business commerce to continue during the pandemic.
The campaign was bolstered with support from Facebook offering $95,000 in ad credits. Drew Bernard, Senior Strategist and Advisor to Facebook's Social Impact team, worked with the student team to measure the impact of the campaigns through a tool called a brand lift study.
Facebook Brand Lift tests help companies understand the impact of Facebook advertising on brand awareness. In this case, the team used the tool to "measure the knowledge, attitudes and practices of people around mask use and other important health behaviors." This exercise showed remarkable results — a 4.3% lift, moving people to "likely" or "very likely" when asked "How likely are you to wear a mask when getting together with friends and family members you don't live with."
With a total lift audience of 1.26 million, Bernard estimates that a staggering 55,000 people in Washington changed their behavior in response to the campaign.
Dr. Akhtar Badshah, one of the founders and board members of Restart Partners, called the students "rockstars" and praised their professional-level work.
"We saw a 4.3% lift." Badshah said. "When there is a mandatory mask requirement put in place, you might see a 15% lift. A 4.3% lift just through messaging is astounding."
Comm Lead Head of Creative Strategy Alex Stonehill, who coordinated the student team, said it was the most impactful project he'd seen in nearly five years running the Partner Program, which matches students with community organizations to execute communication projects like this campaign.
"We know how much wearing masks reduces your risk of contracting COVID. So given these behavior change numbers, we can say with certainty that these students' work actually saved a number of lives," Stonehill said. "We often talk about how much harm can be done when the power of social media networks is exploited. It's so gratifying to see the flip side: that those tools can be used for public good."
But it wasn't just about the technology tools. The students' creativity and flexibility in developing the messaging played a huge role. They increased engagement and interaction with tactics like asking questions, using rhymes and puns, catchy slogans, seasonal themes, and including diverse groups of people in the ads. Over the course of the campaign, they tracked which messages worked the best, and then adjusted in response. Ultimately they found that ads that promoted messages of solidarity and mutual respect around mask wearing were the most successful in terms of likes and shares.
All told, the students produced 154 individual ads, which garnered over 7.3 million impressions and an approximately 31% engagement rate.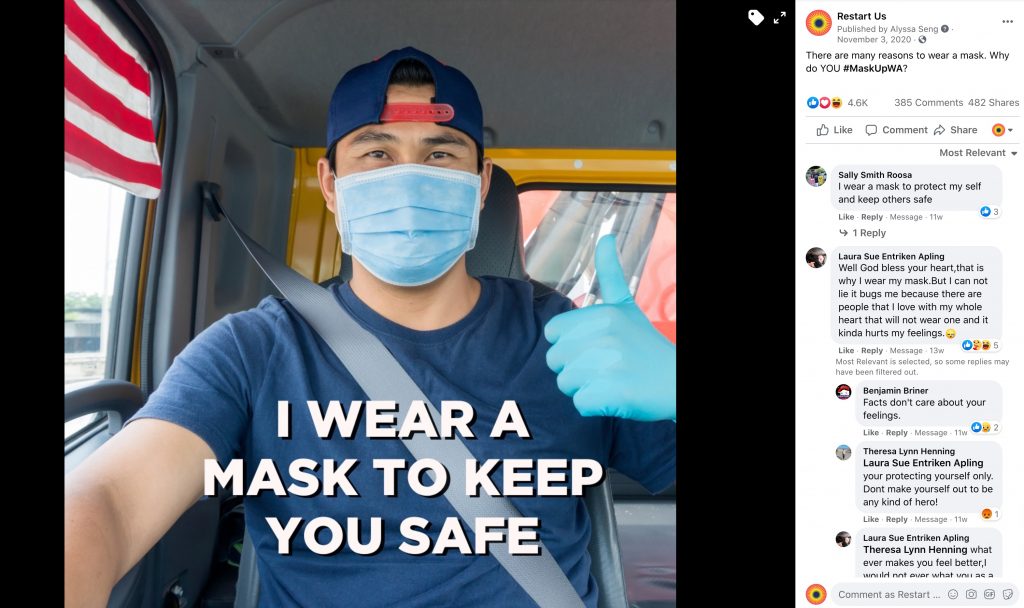 Comm Lead students led the way from the beginning; Stasea Stewart was the project manager, Marisol Morales and Sasha Buz produced the content, and Ai-Heng Ashley Lee moderated the comments and managed community engagement on the posts.
Alyssa Seng, who managed the deployment of the campaign using Facebook's Business Manager, said that running a campaign of this scope meant being prepared, but also flexible.
"Even though you have everything you need, and you feel like you are ready to launch the campaign, everything that can go wrong will go wrong at some point," Seng said. "This means monitoring the ad spending and distribution of the ads closely, especially in the beginning of the launch. It's important to be transparent with your team and be as proactive in fixing the problem as soon as possible."
Morales said she had been feeling disheartened by the news at the beginning of the pandemic, and was hoping to do something to make a difference. She found it by joining the project.
"I was tasked with developing creative social media content that would further drive engagement, change people's mask adoption behaviors, and bring awareness to the importance of wearing a mask," Morales said "I took an audience-informed approach in developing designs and messaging. For inspiration, I looked to my social networks to see what my friends and family were sharing online in regard to COVID-19 safety."
The messaging was also informed by a preliminary survey of Washingtonians' mask-wearing behaviors done by Kantar research, which determined that, with most people already masking in public settings, the most potential for behavior change was in more private social gathering.
Dr. Badshah says he was impressed with how quickly the students were able to understand and interpret the results of the survey and produce effective messaging strategies that produced solid results.
Dr. Badshah is excited that this effort has provided a replicable template that can be used for similar campaigns anywhere in the world to tackle different issues.
"That's the real value right there, besides the direct impact we've had," Dr. Badshah said. "It also shows the capability and capacity we have in the university."
The success of this campaign prompted Facebook to enlist the students to work on content promoting flu vaccination, and to expand the mask campaign to 20 more states in the South and Middle West of the US. The latter campaign, also managed by Seng with $500,000 in ad funding from Facebook, reached more than 21 million people.
Stonehill says that Restart, Comm Lead, and Facebook are in the early stages of more campaigns to address the next challenges of the pandemic: keeping small businesses afloat and encouraging people step forward and get the vaccine once it's available to them.
For now, the students' passion to make a difference, combined with their hard work, resilience, and collaboration was key to this truly groundbreaking accomplishment, one of the brighter spots of a difficult year.