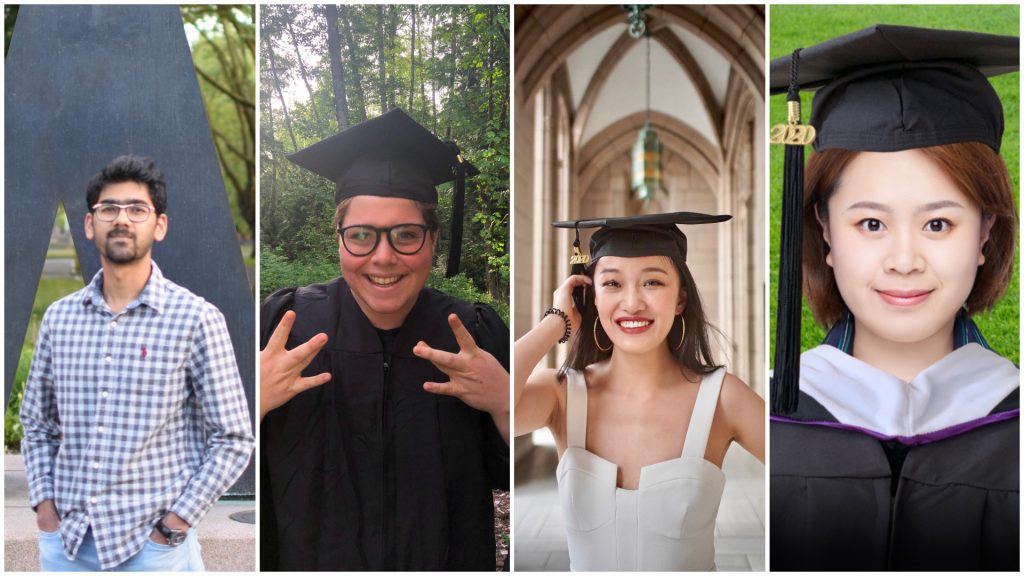 On June 12, we celebrated the 2020 graduating class, and the inspiring work Comm Leaders have done throughout the year. Although there were no high-fives or turning of tassels, the live virtual celebration was made special by the presence of our community, and the outpouring of well wishes and cheers from attendees across the globe.
As part of the celebration, we gave special awards to five student leaders whose work has impact in and beyond the classroom:
The Research Award
Kanhaiya Maheshwary
This award recognizes a student who has produced a piece of research deemed superb as part of a class during their time at Comm Lead.
Kanhaiya Maheshwary received this award for his independent study research project titled, "Reimagining Digital Marketing for Credit Unions."
An excerpt from the nomination:
"This is a work product I'd be proud to deliver to any client, and is one of the most impressive pieces of student work I've seen in nine years in the Comm Lead program. As someone who works on projects like this professionally, I was amazed at Kanhaiya's insight, careful research, and excellent use of data."
The Creativity Award
Steph Hirsch
This award recognizes a student who took a class assignment and developed it into something that was both novel and useful, using the requirements of the assignment to explore beyond the boundaries of the course.
Steph Hirsch's work involved communication for advocacy, as well as an independent study titled "Invest In Transit: A Seattle Department of Transportation (SDOT) and King County Metro Public Education Campaign." They developed a transit equity public education campaign known as the Youth Ambassador Program for SDOT.
An excerpt from the nomination:
"Steph's coursework and project concept in support of SDOT is both novel and useful—the assessment when it comes to what makes something truly creative. Steph modeled the application of course concepts to the project, and, in turn, impacted the broader community of Seattle when it comes to regional transit use and access. Furthermore, it is emblematic of the commitment they bring to SDOT to recognize and champion diversity, equity, and inclusion."
The Leadership Award
Tongtong Qu
This award recognizes a student who has exemplified leadership qualities—in a course, across courses, and/or in the program and community. Tongong demonstrates this, and much more.
An excerpt from the nomination:
"Tongtong has been listening to learn and lead her entire time at Comm Lead. She lives a global mindset. Fascinated by and sensitive to our cultural diversity, Tongtong walks in the world with a curiosity about culture and an appreciation of cross-cultural attributes being assets. Tongtong's service to Comm Lead has been, to use a term the UW loves, boundless."
The Community Award
Yvonne Xiao
Our connections with our community—both within Comm Lead and in the broader community—make us who we are. The Community award recognizes a student whose work to strengthen our community connections made us stronger, smarter, and more collaborative.
Yvonne's instinctive knowledge and perspective on social media propelled our Instagram presence and engagement to a new level.
An excerpt from Yvonne's nomination:
"Yvonne transformed our mostly dormant, sleepy @commlead Instagram account into a vibrant, exciting community connection during her term as our student Instagram manager. During a time when I had personally seen social media as only divisive, she taught me how social media can be used for good—to strengthen community, build connections, and reach out to new audiences and engage them in positive ways."
The Story Award
Kanhaiya Maheswary
Stories are the center of our work. The Story award recognizes someone whose storytelling moved beyond the classroom to draw attention to a pressing human issue, positively influence the work of a client, and/or demonstrated superb instincts for how to tell a story that persuades.
Kanhaiya is passionate about telling stories that have the most impact, and reach the intended audience in the best way possible.
An excerpt from the nomination:
"I had the pleasure of working with Kanhaiya on two storytelling projects through the Comm Lead Partner Program, both about housing affordability—with Real Change and Capitol Hill Housing. In these projects, Kanhaiya modeled the empathy, patience, and skill that embody the Comm Lead ethos."
Congratulations to all the students for their amazing work! And thank you for your dedication and persistence for telling stories that matter.